The RTC Bike Share system features a mix of 150 classic and electric bikes available 24/7, 365 days a year in Downtown Las Vegas. There is no better way to explore the sights and sounds of DTLV than on a bicycle. RTC Bike Share gives you access to some of the best restaurants, shopping and attractions in Las Vegas! Each station has a touchscreen kiosk for bike checkout, a map of the bike share system, and of course RTC bikes! You must be 16 or older to ride an RTC bike.
Buy a pass online or
on the RTC Bike Share app
Passes available:
Dasher Pass for $5

 

Explorer Pass for $15

 

Downtowner Pass

for $125
The Explorer and Downtowner Passes are available online at bikeshare.rtcsnv.com. If you requested an Explorer or Downtowner Passholder card, the card will arrive in the mail within two weeks. In the meantime, you can use the RTC Bike Share app or the kiosk to check out a bike.
Ways to unlock a bike:
Use your phone number at the kiosk

Use your Passholder Card at the

dock

Download the RTC Bike Share app and checkout a bike from your phone
Make sure to dock every 30 minutes (Dasher pass) or 60 minutes (Explorer or Downtowner pass) to avoid any overage fees.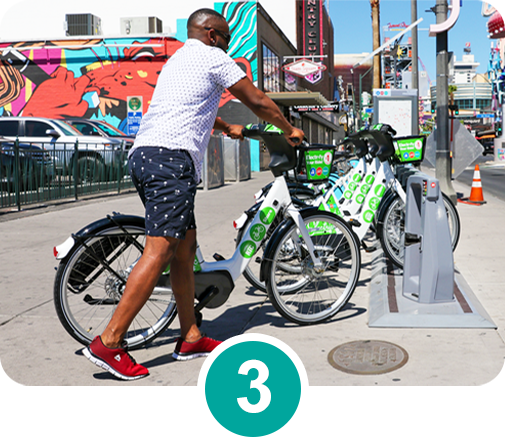 Return your bike
to any station
When docking your bike:
Listen for 3 beeps to confirm your bike is properly docked
Look for a green flashing light on the dock
You should receive an email or text confirmation
Station full? Follow the instructions at the station kiosk to extend your time for an additional 15 minutes so you can locate a nearby station with available docks.
Issues with your ride? Call or text Customer Service at 844-641-7823 or email [email protected].