RTC Bike Share is providing more power to your pedal with the NEW RTC Electric Bikes. The pedal-assisted, electric bike gives riders a faster, easier ride with less effort required. Get to where you need to go on time without breaking a sweat. Available electric bikes can be seen on the RTC Bike Share App or online Station Map.
If you really, really like the electric bikes, let us know on social media by tagging @RTCSNV and #RTCBikeShare.
Safety Tips
Just like our RTC Bike Share classic bikes, you will want to follow all the rules of the road! Be sure to visit our Safe Riding Rules page to learn how you can make your RTC Bike Share experience even better.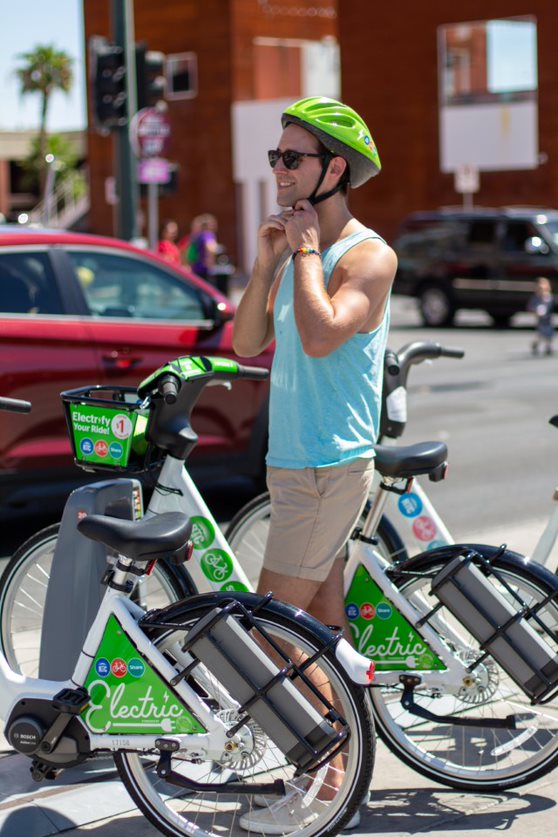 Go For A Ride Today
How to find electric bikes. RTC Bike Share stations that have electric bikes docked at them will display a green lightning bolt symbol above the station icon on the RTC Bike Share website Station Map or the RTC Bike Share mobile app. For an additional $1 unlocking fee per ride, you will be able to check out an electric bike the same way you check out the RTC Bike Share classic bikes. 
Electric pedal-assist motor. The RTC Electric Bike is powered by a pedal-assist motor that allows you to ride up to 17 mph with an electric "boost." This is perfect for overcoming elevation obstacles, shortening your commute, or just covering more ground!
Easy-to-find power button. Turn on the electric assist by pressing the power button on the display located on the handlebars. Make sure the bike is at a standstill before you press the power button, or else it won't turn on! When you're finished riding, dock at any RTC Bike Share stations and you're good to go!
Phone Safety Strap. The RTC Electric Bike now comes with a safety strap for your phone. Keep your phone secure during your ride while getting directions or monitoring your ride time. Remember to keep your eyes on the road and not on your phone.
Have More Questions? We've Got Answers!
How is an RTC Electric Bike different from an RTC Bike Share classic bike?
RTC Electric Bikes feature a motor that
gives you an extra boost
as you pedal. Electric bikes allow riders to travel
f
a
rther
and faster with less physical effort!
How do I find and check out an RTC Electric Bike?
You can locate RTC Bike Share stations that have electric bikes by checking the Station Map Page on the RTC Bike Share website or in the RTC Bike Share app. Stations that have RTC Electric Bikes docked at them will show a green lightning bolt above the station icon.
You can use your phone number look-up at the kiosk or the BCycle mobile app to check out an RTC Electric Bike, the same way you check out any other RTC Bike Share bike.
How fast does the RTC Electric Bike go?
RTC Electric Bikes provide pedal assistance up to a speed of 17 miles per hour. The motor in the electric bike only provides assistance when you pedal.
How long does the battery last, and what happens if the battery dies?
The battery life of an electric bike depends on many factors including terrain, riding style, temperature, the weight of the rider and any cargo being transported. On average, a full charge will allow RTC Electric Bikes to travel about 30 miles before they need to be recharged. 
RTC Electric Bikes show you on their display how much total battery life remains. 
If the battery on an electric bike dies, the motor will stop providing pedal assistance. The light on the bike will still function and you will still be able to shift gears, dock, undock, brake, and pedal like normal. The motor does not add noticeable drag when turned off.
What do I do if an RTC Electric Bike runs out of battery while I am riding?
In the unlikely event the battery on an RTC Electric Bike dies while you're riding, you can either finish your trip or dock the bike at the closest station and undock another bike. Please call or text us at 844.641.7823 or email us at  [email protected]  to alert us that the battery has died and to ensure that you are not charged the $1 docking fee.
How old do I have to be to ride an RTC Electric Bike?
Currently, the Nevada Department of Transportation requires a minimum age of 16 to operate an electric-assist bicycle. Therefore, riders must be at least 16 years old to check out an RTC Electric Bike. Minors need to be accompanied by a parent or guardian at least 18 years old during the ride.
On what part of the street should I ride an RTC Electric Bike?
Just like other bicycles, you are permitted but not required to ride in designated bike lanes. Always yield to pedestrians. A bicycle is a vehicle. Follow and obey all traffic lights and signs.
How much does the RTC Electric Bike weigh?
RTC Electric Bikes weigh about 50 pounds, which is only 3 pounds heavier than our RTC Bike Share classic bikes.
How much does it cost to use an RTC Electric Bike?
An additional $1.00 fee will be charged every time an RTC Electric Bike is unlocked.